Octopath Traveler is a role-playing game for the Nintendo Switch. "Eight travelers. Eight adventures. Eight roles to play in a new world brought to life by Square Enix. And now, you can enjoy all of them in the new demo. Step into the shoes and live the stories of each of the eight travelers and freely explore the world of Orsterra. Then, carry your choices and adventure into the main game with save data transfer. Use each character's special abilities in and out of battle. Break through enemy defenses by discovering and targeting weaknesses. Store Boost Points with each turn and then spend them at strategic times to strengthen abilities, chain attacks, or provide aid. Choose the path you wish to walk and discover what lies beyond the horizon." -Description from the Nintendo Website
It is expected to take up to 50-60 hours to complete the main story.[1]
Job system
Edit
Characters
Edit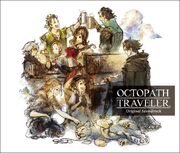 01 : OCTOPATH TRAVELER -メインテーマ-
02 : 剣士オルベリクのテーマ
03 : 踊子プリムロゼのテーマ
04 : ハイランド地方
05 : サンランド地方
06 : 山間の村コブルストン
07 : 緊迫
08 : ちょっとひと休み
09 : 洞窟ダンジョン
10 : バトル1
11 : 勝利のファンファーレ
12 : 敗北のレクイエム
13 : 砂漠の歓楽街サンシェイド
14 : 張り詰めた糸
15 : 忍び寄る悪意
16 : ボスバトル1
17 : 絶望
18 : ボスバトル2
19 : 絆
20 : 渦巻く凶兆
21 : 再起のために
22 : 復讐のために
Development
Edit
Battle system
Edit
Production credits
Edit
Prologue Demo
Edit
Octopath Traveler: Prologue Demo was released on June 14, 2018.
Reception
Edit
The game will not have post-launch DLC.[1]
External links
Edit
References
Edit