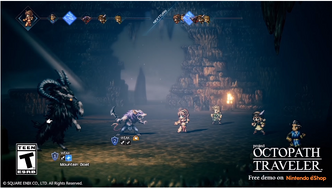 The Project Octopath Traveler Demo is a demo of the video game, Octopath Traveler, that was released on Wednesday, September 13, 2017, shortly after the Nintendo Direct by Square Enix on the Nintendo Switch eShop.[1]
There are two playable characters in the demo: Olberic and Primrose.
The demo is not rated and it contains sexual content, violence, vulgar language, etc.